Read and speak
Normal where possible, special where needed
Respect for our residents' own choices and freedom if the focal point at the Center for Residential Epilepsy Care. To our patients, their epilepsy is radical enough to justify 24-hour care and support. We focus on their possibilities, with a highly capable eye for the impact of the epilepsy and a continuously justifiable risk assessment.
Together with parents and relatives we create a safe and warm home for our residents, with continuous attention for development. Sometimes we succeed in making a large step forward. More often we see smaller movements. But those are equally valuable.
Read and speak
Perspective
Our doctors, remedial educationalists, residential counsellors, activity counsellors and paramedics continue to jointly look for new and sometimes surprising perspectives on the complex disorders of and opportunities for our residents. Kempenhaeghe's expertise in the fields of epileptology and sleep medicine is always at hand. This allows us to directly translate medical treatments, innovation and science into the care we offer. Equally important is our know-how of dealing with epilepsy in daily practice.
We apply this in a variety of types of residing and being active for both children and adults. We have departments where very intensive care is provided in a very protected environment. But there are also departments where care translates more into supervision. All of our departments offer a homey atmosphere and tailor-made activities. We offer stay, treatment, care, nursing, daily activities and support during leisure time.
Read and speak
Balance between risks and extending boundaries
Most of our residents not only suffer from a severe type of epilepsy, but also have serious other impairments that are in turn impeded by the epilepsy. With our expertise and years of practical knowledge we try to let the epilepsy afflict our patients as little as possible. To us, epilepsy is 'normal'. And this offers opportunities.
Those opportunities are the result of the careful risk assessment involving epilepsy. We do this together with the patient and his loved ones. The outcome touches all aspects of someone's daily life: his or her independence and – with that – the choice of residence, daily activities and hobbies. But also the deployment of (epilepsy) monitoring equipment. This equipment offers safety but affects the privacy. For every resident, we unravel how and when the epilepsy plays a role and we look at the conditions and possibilities. By constantly weighing these, we arrive at the best approach in living and caring.
Read and speak
Living, daytime activities and leisure time
Care and professional support that is always available is what the accommodations, daytime activities and organized leisure activities in Kempenhaeghe have in common. The unreliability of epilepsy requires it.
This does not mean that the accommodations and daytime activities are uniform. On the contrary, there is a broad pallet tuned to the large variety in target groups.
In Kloostervelden, on the former institutional grounds of Providentia, adult residents, often with multiple disabilities and sometimes behavior that is hard to understand, have found their own spot in a safe but lively new neighborhood. Other, more self-sufficient residents are at home in the busier villages. In addition, there are many options for satisfactory and purposeful daytime activities and leisure activities. Children live in the Heeze grounds, close to school.
Read and speak
Varied offer: something for everyone
Children or adults with multiple disabilities and epilepsy cannot always get the 24-hour care they need at home. In the Center for Residential Epilepsy Care we do our utmost every day to offer the best possible alternatives in the field of treatment and care. But also in terms of enjoyable living, satisfying and challenging daytime activities, and relaxing leisure activities.
Feeling good about yourself, feeling at home in your home, feeling appreciated at work or school, being able to develop, great social contacts: our residents have the same need as everyone else. And just like everyone else they want to do this as they see fit. That is why the Center for Residential Epilepsy Care values diversity: in accommodation, in daytime activities, in ways to relax.
Residential counsellors, activity counsellors and people from the leisure time department look at the individual needs of each resident, promote their direction and self-sufficiency where possible, and bear in mind the resident's social needs. Our tailor-made offer yields happiness and a feeling of self-worth.
With several types of homes on various locations, daytime activities such as (a combination of) work, craft work, development-oriented activities, experience-oriented activities, creative activities and attention for tailor-made creative pastimes – where volunteers are indispensable – we contribute to a meaningful life for our residents.
Read and speak
Meeting the practitioners?
Every resident has a main practitioner. This is usually a behavioral scientist (remedial educationalist). In the medical team there is also a doctor for the mentally disabled. A personal counsellor, who coordinates care for the resident, and an activities counsellor contribute their expertise as well. Every residential department is linked to a neurologist of the Academic Center for Epileptology.
When necessary, a physical therapist, occupational therapist, speech therapist, dietician, social worker and/or spiritual counsellor can be called in. In consultation with the resident and/or his representative arrangements concerning treatment and support are laid down in a care plan.
Read and speak
Quality and safety
Quality of care and safety of the resident, that's what we work on, day and night. Kempenhaeghe is NIAZ certified. This means that we meet the standards set in the international accreditation NIAZ Qualicor Europe. Moreover, client surveys from 2017 show that our residents, their representatives and our employees experience our care as above average. The survey shows that we work in line with the National Quality Plan Disabled Care.
The residents that were interviewed, award our care with a 9. Their representatives and personal counsellors give us a 7.6 and a 7.4. Of course, there is always room for improvement. The survey results have, per residential cluster, been translated into quality improvement maps. Together with residents and their representatives, the care teams are working on them. You can read the complete report here (in Dutch only). On the Zorgkaart Nederland (in Dutch only) you can read the ratings of our organization and our practitioners.
Improving the quality of life of people with complex epilepsy requires more than a good medical treatment. Together with epilepsy center SEIN and patient organizations EVN and the ZIE foundation we have mapped what it is that people with epilepsy who require long-term care really find important. This is how we develop quality criteria in order to better tune our care to the needs. See also
Epilepsiezorg: waarden vanuit patiëntperspectief (in Dutch only). These criteria are also important to policy makers, health insurance companies and care providers.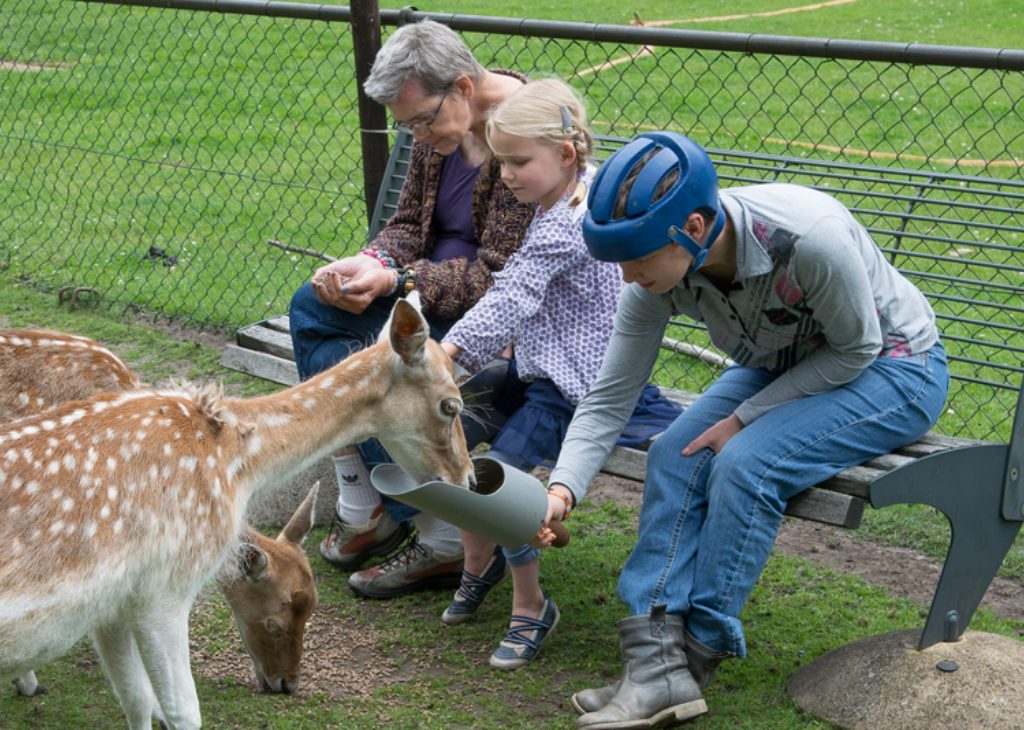 Read and speak
Cooperating in care
Our residents have complex disorders. For their medical support with regard to epilepsy and sleep the lines to the Academic Center for Epileptology and the Center for Sleep Cure & Care are short. In caring for our residents we call in, when applicable, external experts.
For instance, when dealing with the auditive and visual limitations of our residents. And we gather know-how in professional associations and platforms, for instance concerning the care for patients with multiple complex disabilities. Another example is our contact with the Center for Consultation and Expertise (CCE). Care providers can call in this organization when questions arise regarding behavior that is hard to understand. At times we appeal to this organization, but we also jointly develop knowledge.
Of a totally different nature is the contact with people and parties in our direct living environment. Since a number of years our former institutional grounds have been developed into a regular neighborhood in the village of Sterksel. Establishing contacts and maintaining relations with our new neighbors in order to happily reside, work and live together in our neighborhood has given a whole new meaning to the phrase 'providing care'.