Read and speak
Corporate information
Kempenhaeghe is the expertise center par excellence for everyone with a (care) question about refractory epilepsy, sleep disorders and neurological learning and development disorders.
Our strength is in our comprehensive approach, that develops and offers specialized care, special education, innovation and science. We can create integral, effective solutions, because our professionals look at your disorder from different perspectives.
Read and speak
What do we have in mind?
Society expects increasingly more from people. Kempenhaeghe has to deal with a changed care and education environment.
Changes in financing, the national effort towards reducing costs, technological developments, developments in the labor market and increasingly high expectations with regard to the participation of our patients, residents and students. The future is unpredictable and challenging. In this changing landscape Kempenhaeghe claims its position as the European hub for epileptology, sleep medicine and neurocognition.
Read and speak
Values as a compass
We consider being 'open' as an important starting point in our behavior. Not only do we convey our know-how and attention to others, we are also open to whatever happens and lives 'on the outside'.
Therefore, we honor two-way traffic; interaction with our environment. With an open mind towards the needs of our target groups – patients, students, referrers, partners, researchers, financers – we focus on our role as European hub in our disciplines. Kempenhaeghe invests – together with other parties – in tackling epilepsy, sleep disorders and learning and development problems. Partnerships allow for results we could not achieve on our own. In doing so, our values are our compass.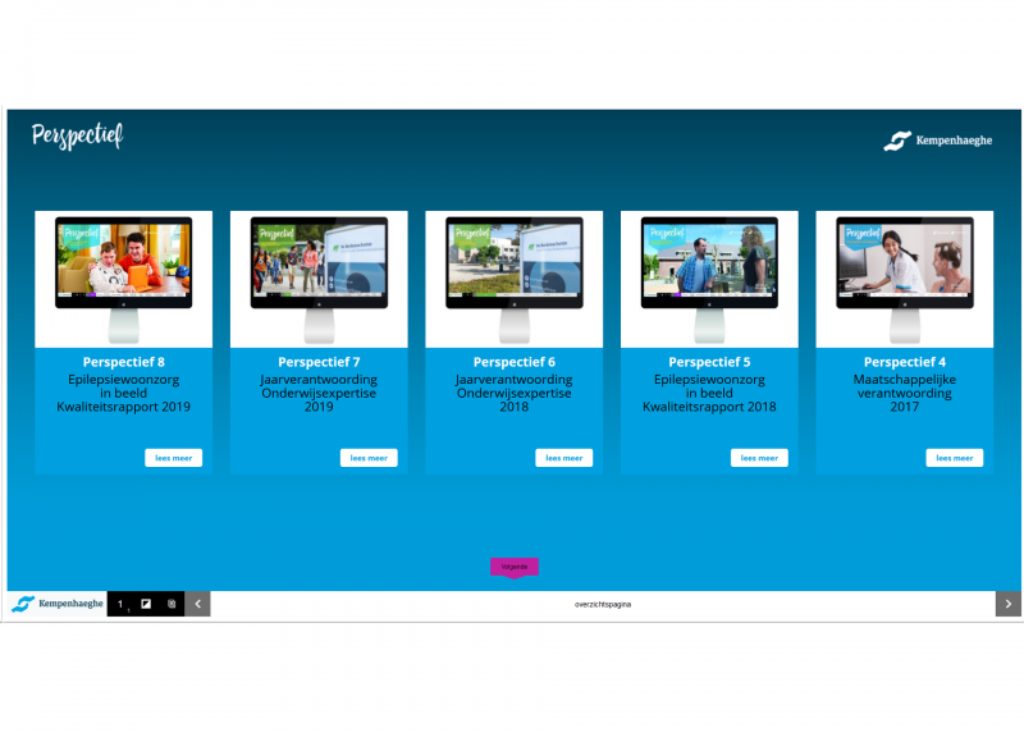 Read and speak
What do we work on?
Kempenhaeghe is committed to new perspectives. For patients with epilepsy, sleep problems or neurological learning and development disorders. For students with a need for special education. For the professionals that work here. For referrers. And for the partners with whom we cooperate.
How do we do this in practice? Through the multidisciplinary know-how and attention from our professionals. Through the combinations of high-technological care and a warm, human approach, from care and education, from science and practice, from development and the application of innovation. Our digital magazine Perspective shows examples of this (Dutch only).
Read and speak
The power of connections
At Kempenhaeghe we consider ourselves to be connectors. Thanks to our large and smaller networks we can connect people, disciplines, expertise and organizations.
This is how we set the standard for development in our central disciplines epileptology, sleep medicine, neurological learning and development disorders and special education. This allows us to provide better care and better education. And that is what it's all about.
Read and speak
How do we work?
Kempenhaeghe is controlled by a Board of Management. The five expertise centers of Kempenhaeghe operate independently from one another, but in close cooperation, under the umbrella of the Kempenhaeghe Foundation.
The Research, Development & Education department is active across the full width of the expertise fields. Other supporting departments are at the disposal of all Kempenhaeghe centers. This organization allows the primary care process and, with that, the patient, to be key, benefitting patients, referrers, partners and our own staff.
To guarantee the maximum involvement of all stakeholders, Kempenhaeghe has various boards in which professional and other groups are represented. They are the client board, scientific advice council, association of medical specialists in employment, multidisciplinary council, nursing advice council, workers council and participation council.
Read and speak
Where do we come from?
What started 1919 with care for man with 'falling disease' has evolved into an internationally appreciated and recognized expertise center for epilepsy, sleep disorders and neurological learning and development disorders.
Kempenhaeghe is specialized in all facets of good care with regard to these disorders: from treatment in outpatient clinics to residential care and from diagnostic research to science and innovation projects in cooperation with other competence centers and companies.
Read and speak
Funds
Kempenhaeghe aspires to provide optimal care and stay for patients and residents. Sometimes, extra funds are required. The Vrienden van Kempenhaeghe Foundation and the Levenslust Fund raise funds for facilities, activities or projects that cannot be financed through the regular budget.
The 'Vrienden' offer patients and residents small extras, such as a contribution to the petting zoo or the acquisition of a wheelchair bike. Financial means are also spent on scientific activities and innovation, for instance on a project on seizure detection.
The Levenslust Fund focuses on the wellbeing of our residents. Wealthy residents – with their representatives' consent – contribute to the wellbeing of a larger group, based on the notion of solidarity. This makes it easier to organize trips, hobbies and other leisure activities, while more people can participate en enjoy them.
The funds are non-profit. You may support them or apply for funding via vrienden@kempenhaeghe.nl.